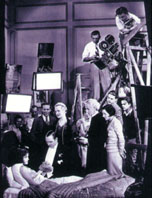 Lewis Milestone's
film career spanned over five decades and included two Academy Awards™ (Two Arabian Knights–1928; All Quiet On The Western Front–1930) and two more Academy Award nominations (The Front Page–1932; Of Mice and Men–1940). Milestone was born in Russia on September 30, 1895, the son of a clothing manufacturer. After briefly studying engineering, he quit school and emigrated to the United States. He held a variety of menial jobs before becoming part of the Signal Corps photographic unit, where he developed and honed his filmmaking skills. This experience eventually led to his first directing project, Seven Sinners in 1925 for Warner Brothers. Milestone was a recognized comedy director at the time Garden Of Eden was made. He had been previously hired by Eden producer John Considine for the film Two Arabian Knights, which led to the first and only Academy Award honor ever given for Best Comedy Direction. After the success of All Quiet On the Western Front and a few film projects with producer/director Howard Hughes, Milestone was able to establish himself beyond comedy films in a variety of genres. Other Milestone films include The Racket (1928), Rain (1932), Hallelujah, I'm a Bum (1933), A Walk In the Sun (1945), The Strange Love Of Martha Ivers (1946), and The Red Pony (1949). He worked in television as a director in the 1950s. His last completed feature film was a remake of Mutiny On the Bounty (1962). He was married to actress Kendall Lee from 1936 to her death in 1978. Milestone died on September 25, 1980 after undergoing surgery and following a lengthy illness.
| | | | | |
| --- | --- | --- | --- | --- |
| | DVD | Silent Classic | UPC: 8-03120-00222-6 | Out of Print |
THE GARDEN OF EDEN
This thoroughly entertaining romantic comedy from 1928 was an important film for both its beguiling star, Corinne Griffith and early Academy Award™ Best Actress nominee (The Divine Lady–1929), and talented director Lewis Milestone, a two-time Academy Award™ Best Director winner. Featuring gorgeous production design by William Cameron Menzies, this digital edition of the film is mastered from what is considered to be the best surviving elements with a new musical score arranged and performed by Robert Israel.
The film follows vocalist Toni LeBrun (Griffith) who leaves her family's bakery for Budapest to become an "opera singer," unaware that she has contracted to perform as a chorus dancer at the Palais de Paris, a cabaret run by the decadent and delightfully menacing Madame Bauer (Maude George). Toni soon escapes to Monte Carlo with the cabaret's seamstress, Rosa (Louise Dresser), after warding off the wily cabaret patron, Baron Henri D'Avril (Lowell Sherman). At the deluxe Hotel Eden, Toni attracts the attention of potential suitor Richard Dupont (Charles Ray), but she's in danger of being exposed before he asks for her hand. Dueling attention from Richard's uncle Colonel Dupon (Edward Martindel), and a surprise guest create further romantic adventures for the couple. Celebrate the rediscovery of this silent gem in its best ever DVD presentation.
Also included are two bonus short subjects: Hollywood the Unusual(1927) and The Toy Shop (1928) plus the original 1928 Press Book and Production Stills.