EEG 6742
Format: DVD
Language: English

Length: 80 minutes
Documentary

UPC: 617311674297

ISBN: 1-893967-42-5
Release Date: April 7, 2009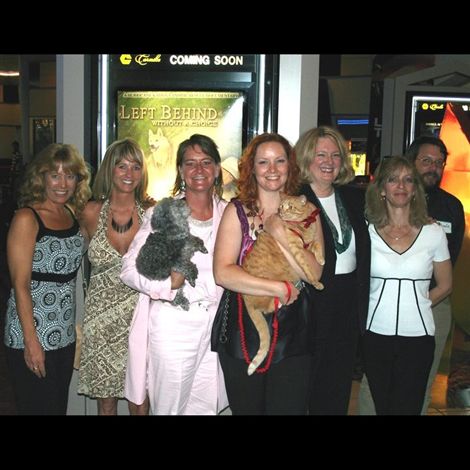 Photo: Film Premiere
On August 29, 2005, Hurricane Katrina turned the Gulf Coast region into a sea of loss and despair. Our nation sat in dismay as our government failed to respond.
Animals desperately searched and pleaded for help as they were left behind with no choice but to endure a hurricane, floods and a fight to survive the streets on their own. People from across the United States, Canada and countries abroad heard their cries and took it upon themselves to do something about it.
Left Behind Without A Choice explores the less media-friendly side of the animal rescue efforts. The physical and emotional conditions of the animals are told by the very people who cared for them and nurtured them back to health as they recount their journey with Hurricane Katrina animal rescue. A few animals' stories have been completely documented from peril to the path to recovery and are included in this documentary.
Featuring the staff of "Best Friends Animal Society" and music by Jessy Greene, Wally Borgan and Marc Perlman (Jayhawks).
FEATURING: CHARLIE GUMBUSKY, BARBARA GISLASON, MARY SALTER, LYNNE BENGTSON, PAULA McGRANAHAN, SHARI TIMBERLAKE, STEPHANIE TIMBERLAKE, and KIM WALSH-BORGAN
ALSO FEATURING "BEST FRIENDS" STAFF: MICHAEL MOUNTAIN, FRANCIS BATTISTA, SILVA BATTISTA, SHERRY WOODARD, JOHN GARCIA, JEFF POPOWICH, and ETHAN GURNEY
MUSIC BY JESSY GREENE, WALLY BORGAN, AND MARC PERLMAN
EDITED BY KATIE CARPENTER
WRITTEN, DIRECTED & PRODUCED BY KIM WALSH-BORGAN